About Us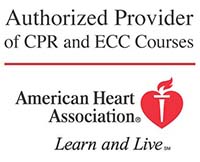 The Healthy Step is nationally accredited through the American Heart Association. We are a training organization that was founded in 2006, with the purpose of teaching effective CPR, First Aid and Childcare Provider Classes.

We are dedicated to providing the best possible education and training in all aspects of pre-hospital emergency care. We believe in bringing life sustaining measures to the general public, with efforts to reduce the extent of morbidity and devastation to the very core of our existence. Most importantly however, we believe the best reason for pre-hospital care education is to be able to sustain the life of those of whom we hold most dear.

We teach American Heart Association classes
All of our trainers are certified and experienced trainers
We have trained doctors, teachers, daycare providers, camp councilors, police officers, moms and dads etc
We have worked with public/private schools, non-profits, hospitals, construction companies, banks, churches, hotels, restaurants, etc.
We have served over 5,000 students in more than 125 classes
We have a 98.7% customer satisfaction rating
70% of our customers come from referral
"You are a FANTASTIC instructor and it was a pleasure to be your student for the night! You kept us interested the whole time, you had some funny jokes, great scenarios, wonderful pointers and it was fun! Thank you again for making me feel confident in my skills." ~ Kelly A.